Firefox800 Wallhack Working in GG Emulator 4.1 by alkey99 Blue Pink WallHack Undtectd
Proof SS
UPDATE AFTER MAINTENANCE STILL UNDETECTED 1/2/2011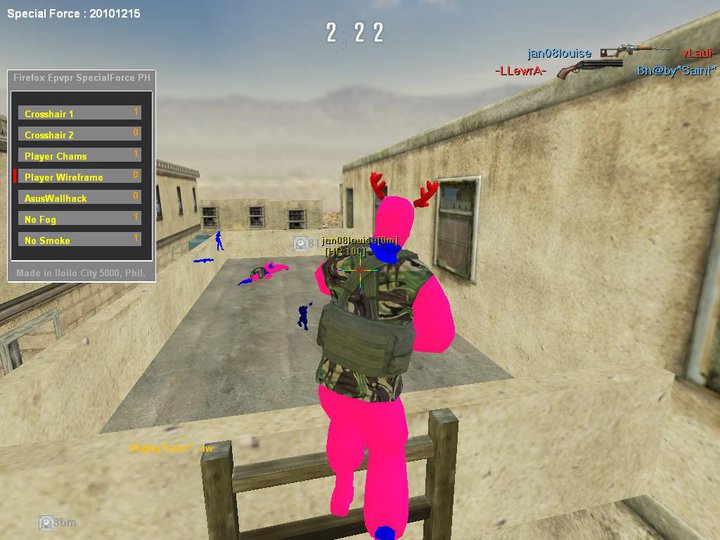 GG Emulator proof SS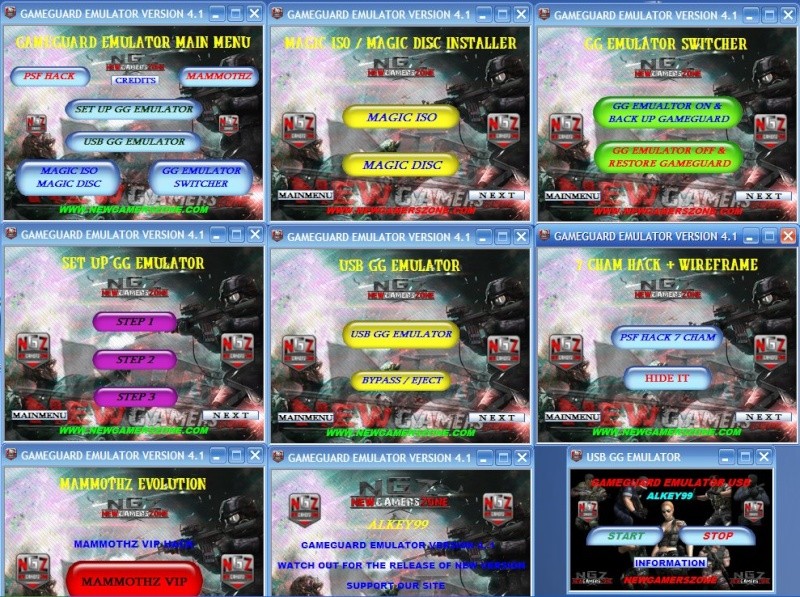 FEATURE ADDED:
1 Program with 8 pages ( built in window program no nid to install)
Customize Minimizer On Your Taskbar
Auto Guide Tutorial
Updated GG Switcher (back up your latest gameguard and restore)
Updated GG Emulator Desktop (easy to set up with feature command)
Added USB GG Emulator (include tutorial and info)
Mammothz VIP (easy to copy the files in just click of button)
Auto Delete (deleted all files extracted on your desktop after used)
1.DOWNLOAD GG EMULATOR AND THE WALLHACK , EXTRACT TO DESKTOP
2.OPEN X1NJECTOR GUNZ.EXE CHANGE IT OT specialforce.exe
3.CLICK OPEN GG EMULATOR CLICK magicISO and Magicdisc first to download and click Hide IT
4.Don't use mammothz cause its Hard to Use it then click SET-UP GG Emulator
5.Then Click Step 1 it loads then abyss web server goes up and click yes and put 1,1,1 then click ok then put 1,1 then click ok
then click Step 2 read the instruction pops up
6.click Step 3 and read all the tutorial
7.Click GG Emulator ON
8.abyss.conf drag it on GG Emulator.ISO
9.when it ask click yes
10.Then rightclick Magicdisc beside te clock and click mount
11. then click GG Emulator.ISO
12. Click my Computer then click the Mounted file E,F,Or G
13. Then click Alkey99 GG Emulator circle blue color
14. Then Log in SF and Start the Game
15. Then right click again magicdisc
16. If the GameGuard Left side Gone click Unmount all Drives
17.there's an error pops up use Hide It and Hide the Error
18. Your done hope you will play Good as me..
Download GG Emulator 4.1 =>
GG Emulator 4.1 Download Here
Download Blue Pink + Wireframe Wallhack =>
FireFox800 Blue Pink Wallhack Download