Dear Soldiers,
First off, my apologies for not sharing this update information sooner. Actually, I wasn't able to do so because there has been quite a bit of issues and debate on whether or not to have the content update maintenance this week.
Maintenance Date & Time
Feb SF maintenance will be a part of IJJI wide monthly maintenance. Unlike before, this month's maintenance starts at 11PM PST 02/15/2011 (tonight). Expected completion time for IJJI wide maintenance is 3AM PST 02/16/2011, and SF maintenance is expected to complete at 3:40AM PST 02/16/2011 (I will keep you all posted via Forum Announcement).
Event Info
Event 1 - EXP & SP Event!!!
With the school season well underway, you have less time to play SF. To help you get most out of this busy time of the year, we will host 50% Additional EXP & SP event for the following dates in Feb.
02/18/2011 1200hrs PST ~ 02/22/2011 1200hrs PST
02/25/2011 1200hrs PST ~ 02/28/2011 1200hrs PST
Event 2 - Black Devil Gift Box Event!!!
You all knew that "Character Transformation System" was coming your way in February update. It is here now, and you could enjoy it for absolutely FREE!!!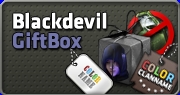 Between now and until the March content update, you could win Black Devil Gift Box according to the following rules.
- 1 Black Devil Gift Box per each 50 Minutes of Game Play
- Maximum of 5 boxes per each day
- Items you could win from each gift box (7d & 1d Black Devil, Color Codename change, Prevent Team Kill, Clan Color Name)
- All boxes must be used before March update; but, accumulated Black Devil use period will continue until it naturally expires